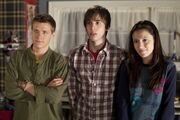 "
Unnatural History
" would have been renewed for a Season 2 had it not been for it's low veiwership and the fact that it was competing with other shows on it's time slot such as "
Glee
". Series creator
Mike Werb
has given details on what would happen if "Unnatural History" would have gotten a second season. There would have been an adventurous two-part season opener with a
Mongolian Death Worm
and
Genghis Khan's
tomb. Henry would rescue a newborn baby camel, his parents, and his
Uncle Bryan
who have been lost in a sandstorm. The rest of the season would have taken place in Washington D.C. and a lot of subjects would be looked upon such as the 18 1/2 minute gap of the
Nixon
/
Watergate tapes
,
The Underground Railroad
, vampire finches,
Hemingway's
lost novel, a
stradivarius
violin, a
Native American
mystery,
D.B. Cooper
among other things! The love triangle between
Henry
,
Jasper
, and
Maggie
would have been explored further as well as Jasper's mother returning from France. Also it would reveal that Henry has a girlfriend and would return to Henry overseas. Mike Werb intended for the series to be picked by a network but a deal could not be reached.
However an "Unnatural History" DVD containing all of the episodes from Season 1 may be released if fans of the series go to this link and like it via their facebook.
ReferenceEdit
Unnatural history is on the French TV at the moment ! Why don't they do a season 2 ? What a shame.... (sorry for my english..)